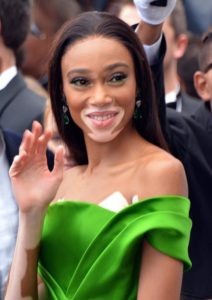 Vitiligo is an autoimmune disease that causes a patient's immune system to attack and destroy the melanocytes in his or her body incorrectly. While it is not a life-threatening or infectious medical condition, the severe discolouration of skin impacts the appearance of an individual and can cause serious emotional stress caused by the abnormality. Patients often feel emotionally and psychologically drained, anxiety, depression, and alienation because of this condition.
However, this was not the case for Winnie Harlow. The 24-year-old Canadian personality was the first Vitiligo model to walk the ramp of 2018 Victoria's Secret Fashion Show. Her life's journey is a tale of struggle and overcoming the limitations that everyone should be inspired.
How it all began…
Growing up as a child with Vitiligo, she went through her share of bullying and abuses. There was no Vitiligo treatment available at that time, which meant she had to battle against her mistreatment all by her own. According to her words, it was the people's opinions that affected her the most, rather than her looks.
It was Shannon Boodram, a Canadian journalist who encouraged Winnie to step out of the shadow and pose for the camera for the first time. Shannon was making a YouTube documentary about leucoderma and how people get affected by it. This chance encounter inspired Winnie, especially when she found out that she felt so much natural in front of the camera.
Soon, she participated in America's Next Top Model and became an instant TV sensation. Stories about her were featured in major dailies like The Daily Mail and Access Hollywood. Winnie Harlow became a household name after she gained her first appearances on these platforms.
Working as a professional model:
After her elimination from America's Next Top Model, she became the official representative of Desigual, a Spanish clothing brand. Her career took a leap from then on. She walked and closed the Spring/Summer 2015 collection of the London Fashion Week on behalf of Ashish. In the same year, she also modelled for the famous Italian apparel brand Diesel for their Spring/Summer 2015 campaign.
Winnie Harlow became the first Vitiligo model to work with fashion magazines such as i-D, Dazed, and websites like Showstudio.com. Other than that, she posed for Glamour magazine, as well as Complex magazine, both in the year of 2015. It skyrocketed her career, and soon, she was featured on the website of Vogue Italia for both photo shoots and interviews. Photographers like Nick Knight covered her during her summer campaign, where she appeared alongside model Fatima Siad, another former America's Next Top Model contestant.
She worked with several companies like Sprite, Swarovski, etc. and was named as one of BBC's 100 Women in 2018.
A spokesperson for people affected with Vitiligo
Winnie Harlow is one of the most influential models with Vitiligo and spokesperson on the internet right now. Her YouTube video 'Vitiligo: A Skin Condition, not a Life Changer' has more than 7 million views. She also participated in TED in 2014, where she spoke about her life's experience, Vitiligo causes, and described how someone could cope with it.
William Harlow is a 'larger than life' character with a strong personality, and an urge to rise up above all the negatives life could throw at her. Not only she won millions of hearts with her Vitiligo skin, but she also presented herself as a role model for thousands of young people who are struggling with this medical condition.
Although there is no vitiligo cure as such, those affected can still feel confident and come out to the world with their best.